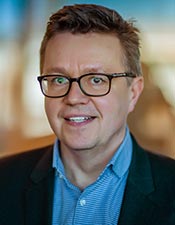 Dr. Pasi A. Jänne MD, PhD
Dr. Jänne is a translational thoracic medical oncologist at the Dana-Farber Cancer Institute and a professor of medicine at Harvard Medical School. He is the director of the Lowe Center for Thoracic Oncology, the scientific co-director of the Belfer Center for Applied Cancer Sciences, and the David M. Livingston, MD, Chair at Dana-Farber. After earning his MD and PhD from the School of Medicine at the University of Pennsylvania, Dr. Jänne completed his internship and residency in medicine at Brigham and Women's Hospital. 
He completed fellowship training in 2001 at the Dana-Farber Cancer Institute/Massachusetts General Hospital combined program in medical oncology. He earned a master's degree in clinical investigation from Harvard University in 2002.
Dr. Jänne has received several awards for his research, including from Uniting Against Lung Cancer, American Lung Association, and the Bonnie J. Addario Lung Cancer Foundation. He is an elected member to the American Society of Clinical Investigation (2008), American Association of Physicians (2016), and the Finnish Academy of Science and Letters (2016). Dr. Jänne is the recipient of 2010 American Association of Cancer Research Richard and Hinda Rosenthal Memorial Award and a member of the 2010 AACR Team Science Award, American Cancer Research Clinical Research Professorship (2017), Waun Ki Hong Award for Outstanding Achievement in Translational and Clinical Cancer Research from the American Association for Cancer Research (2018), Translational Research Award from the European Society for Medical Oncology (2018), R35 - Outstanding Investigator Award from the National Cancer Institute (2018), and Science of Oncology Award from the American Society of Clinical Oncology (2020).